pigmentation
Understanding Pigmentation: Melasma
24.06.2021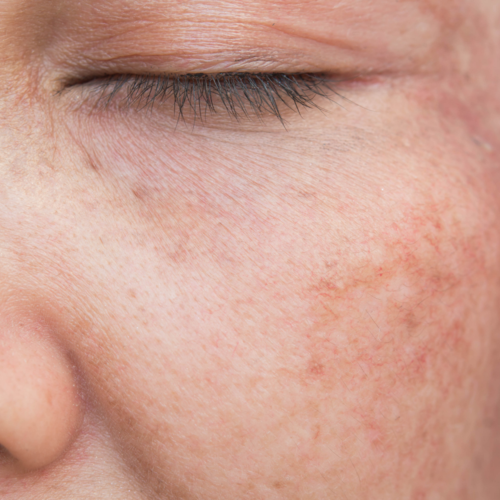 Melasma presents as large patches of pigmentation generally appearing on the forehead, cheek, upper lip and chin. These patches are generally symmetrical. This type of pigmentation is caused by fluctuation in hormone levels and may be triggered by pregnancy, the contraceptive pill and other hormonal therapies.

Paige Starkey, RN at The Clinic, takes us through Melasma, what it looks like and how to treat it.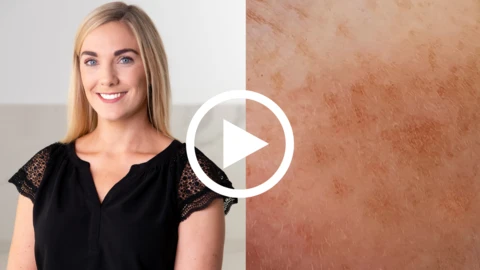 Why Is Melasma So Difficult To Treat?
Melasma is notoriously difficult to treat. This is because it can be aggravated by UV exposure, inflammation, and heat. This form of pigmentation also involves the deeper layers of the skin, which are at a higher risk of rebound pigmentation, if not treated correctly.
Rest assured, the medically trained team at The Clinic is very experienced in treating Melasma and will undergo a through consultation before providing a customised treatment plan that's right for you.
The Best Skin Treatments for Melasma
The PCA Perfecting Peel
The only peel to contain 20% Mandelic Acid, the PCA Skin Perfecting Peel is a gentle yet effective Level 2 Face Peel to resurface the skin, resulting in a smoother texture and more even skin tone. Mandelic Acid is an AHA that has both properties of AHA's and BHA's. Clinical studies have shown it is effective in treating acne, hyper-pigmentation including melasma.
Skinpen
SkinPen is a medical micro-needling device. Micro-needling is a form of collagen induction therapy, using tiny needles to stimulate the body's natural wound healing response. In this response, new tissue and skin cells are formed, producing significant improvements to the tone and texture of the skin.
Deep Sea Rejuvenation Peel
The Deep Sea Peel by Cosmedix is a unique, acid-free Level 3 Face Peel which attains dramatic rejuvenating results through the physical penetration of marine-based ingredients deep within the epidermis. This initiates a complex array of biological responses resulting in cellular renewal and regeneration.
Preventing Melasma
Before using these treatments to treat Melasma, it is essential to firstly introduce a pigment inhibitor product into your routine. Pigment inhibitors reduce and regulates the production of Melanin, by inhibiting Tyrosinase, which is an enzyme responsible for Melanin production.
Due to Melasma being a result of hormonal fluctuations, prevention is not always achievable. However, managing exacerbation of this type of pigmentation is paramount. As with every type of pigmentation, our number one form of defense is always incorporating an SPF into your daily routine.
The Best Skin Products For Melasma
Even Tone Correcting Serum 50ml
SkinBetter Science's Even Tone Correcting Serum is a groundbreaking, non-hydroquinone, non-retinol, multi-action skin evening serum that delivers a dramatic reduction in the appearance of hyperpigmentation.* This is a medical product that requires a skin consultation prior to purchase. Not suitable for...
Even Tone Correcting Serum 50ml
$249.00
Shop now
Complete Pigment Plus Serum 30ml
Aspect Dr Complete Pigment Plus Serum is a new and improved formula that is brand new to the Aspect Dr range. This powerful formula combines Tranexamic Acid and Tyrostat-11 unveiling a more even, radiant-looking complexion.
Complete Pigment Plus Serum 30ml
$159.50
Shop now
X-Cell + 30ml
An exceptional skin brightening and stimulating corrective serum, Cosmedix Elite X-Cell + brings Vitamin A complex together with powerful antioxidants and botanical extracts to gently exfoliate skin, revealing a lighter, brighter, more evenly toned complexion. * This is a medical...
Total Protection Faceshield SPF 30
Colorescience Total Protection Faceshield SPF 30 is a lightweight, oil-free primer designed to even skin texture and protect against the daily elements. A physical sunscreen, with 12% Zinc Oxide and powerful Antioxidants, Colorescience Total Protection Faceshield SPF 30
Total Protection Faceshield SPF 30
$82.50
Shop now
Envirostat Face SPF 50 75ml
Aspect Sun Envirostat Face SPF50 is a very high protection, water resistant sunscreen lotion which has been specially developed in Australia to provide broad spectrum UVA and UVB SPF 50+ protection.
Envirostat Face SPF 50 75ml
$38.00
Shop now