acne
What is IPL and Why You Need to Book your Session Now
04.03.2021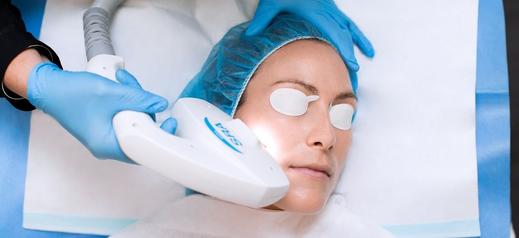 Most of us by our early 30's have some sort of sun damage, pigmentation or skin discoloration- there is only so much at home skincare can do, and makeup- that just conceals it which is fine but if you knew you could effectively treat it wouldn't you!?

We have got news for you, you can! Here at The Clinic one of our most highly requested treatments is our IPL Rejuvenation treatment.

WHAT IS IPL?

IPL, which stands for Intense Pulsed Light is an effective rejuvenation treatment which uses light therapy to break down melanin in the skin, reverse pigmentation and create an even skin tone.

Check out the below video to see our IPL treatment live in action:




HOW DOES IPL WORK?

IPL works through producing beams of many different wavelengths of light which get absorbed into targeted skin cells to repair damage and breakdown accumulated spots of melanin, such as pigmentation, spotting and redness.

This process provides rejuvenation and improves redness, pigmentation, and sun-damage. As a result, if the skin targeted is tanned (fake or otherwise), the treatment is ineffectual. If tanned, all cells will absorb the wavelength, and adverse reactions can occur. These adverse reactions can also happen post-treatment if vigilance with SPF is not maintained during sun exposure.

An IPL session is roughly 30 minutes in duration for the full face. Initially, a cooling gel is applied to the area to be treated, and you will be given protective eyewear to prevent eye damage from the light used. As the IPL hand-piece is moved over the skin, a sensation likened to a rubber band snap may be felt, and following treatment, the skin may feel hot for up to one hour.

In regards to amount of treatments you will need this all depends on your treatment area and desired results. We recommend between 1 and 5 sessions to see long-term improvement for most clients. You will speak with one of our Doctors or Registered Nurses about your background and medical history during your initial consultation so we can that the IPL treatment will fulfill your goals, we then may suggest an alternative or complementary cosmetic treatment.



WHAT ARE THE BENEFITS?

IPL treatments can be effectively used to treat:
Freckles, sunspots and other hyperpigmented areas
Acne (the light energy destroys bacteria colonising your skin)
Sun damage and/or redness
Broken capillaries
Uneven colouring
Stubborn melasma post pregnancy and during breastfeeding
Check out one of our lovely clients after just one full face treatment of IPL.
WHAT PRODUCTS SHOULD YOU BE PAIRING WITH YOUR IPL TREATMENT?
It is essential that after your IPL treatment that you follow a skincare regime which will ensure you get the best results from your IPL treatment. The Clinics Registered Nurse, Paige Starkey suggests pairing the following products with your IPL treatment:
Benefit Clean 150ml
Encouraging fresh, clean complexions, Cosmedix Benefit Clean is the key to a simple and effective skin care regime. The deep cleansing formula gently removes impurities, makeup and pollutants, whilst providing calming and nourishing properties. 
The Moisturiser 50g
Developed by The Clinic's co-directors Kaye Scott and Lisa Sullivan-Smith after 15 years of treating a range of skin conditions, this luxurious cult product is a rich, hydrating, fast-absorbing moisturiser for all skin types (except the really oily).
Redless 30ml
Aspect Dr Redless is such a loved serum, it is now available in 30mL size. Brilliant for alleviating dry and stressed skins, Aspect Dr Redless is essential to any skincare regime. Red, sensitive skin sufferers and mild irritation alike will...
Rejuvenating Peptide Sheet Mask
The Societe Rejuvenating Peptide Masks were originally developed to restore the skin after invasive treatments (they are that effective). We love this sheet mask so much, we recommend them for anytime the skin needs an instant hydration boost! Containing ingredients that are activated...
Rejuvenating Peptide Sheet Mask
$35.00
Shop now
Calming Relief Balm 57g
Societe Calming Relief Balm helps reduce the appearance of problematic skin conditions, including redness, itching & hyper-sensitivity. Ideal for use to soothe and calm the skin after treatments & laser procedures.
Calming Relief Balm 57g
$110.00
Shop now
Total Protection Faceshield SPF 30
Colorescience Total Protection Faceshield SPF 30 is a lightweight, oil-free primer designed to even skin texture and protect against the daily elements. A physical sunscreen, with 12% Zinc Oxide and powerful Antioxidants, Colorescience Total Protection Faceshield SPF 30
Total Protection Faceshield SPF 30
$82.50
Shop now