acne
Chemical Face Peel: Just What You Need For Better Skin
21.05.2021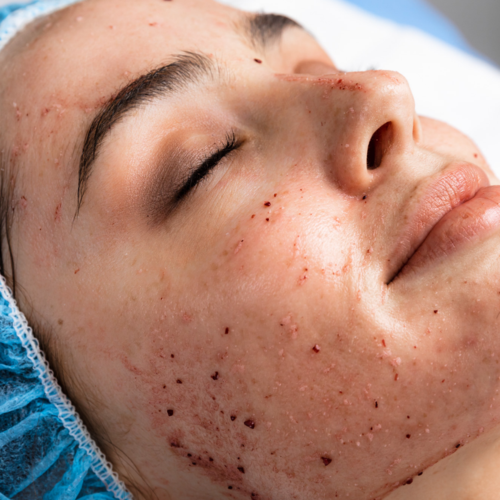 Here at The Clinic, Chemical Peels are our number one treatment for improving skin tone and texture. We perform over 60 peels per week and have been doing so for over 20 years. We also stock a selection of at-home peel solutions for those unable to make it into The Clinic for a treatment which too can provide excellent results.
WHAT IS A CHEMICAL PEEL AND HOW DO THEY WORK?
Chemical Peels are designed to treat the Epidermis, or the outer layer of the skin. A peel treatment works by removing dead skin cells, debris and pigmentation, while also decongesting the skin and increasing cellular turnover to reveal brighter, healthier looking skin. Professional chemical peels use powerful medical grade ingredients, visibly transforming your skin to provide noticeable results you will not see from regular skincare products.
HOW DO IN CLINIC CHEMICAL PEELS WORK?
In Clinic our peels are classified into 3 levels which refers to the depth at which they penetrate the skin.
LEVEL 1 PEELS
Level 1 peels operate in the most superficial layer of the Epidermis, known as the Stratum Corneum. This layer of skin is commonly referred to the "dead skin cell layer" which forms the protective barrier of the skin. When thickened or compacted, due to various factors such as; ageing, moisturising with insufficient exfoliation or oily skin, it can cause the skin to appear dry, rough, dull or congested.

What to expect:
The results from Level 1 peels are instant with no downtime. Skin appears instantly brighter, softer, smoother and more hydrated.

Who is suitable:
Level 1 peels are suited to all skin types. Often used as an introductory to medical grade skin treatments, those with minimal skin issues who are feeling like their skin is dry, dull or congested or those who require a "freshen up" prior to a special event.

Types of Level 1 Peels we offer at The Clinic:

Blueberry Antioxidant Peel ($150)

Benefactor AHA BHA Resurfacing Peel ($150)

Societe Oxygenation Peel ($150)

Check out a Level 1 Peel being performed in The Clinic below:


LEVEL 2 PEELS
Level 2 peels work to a greater depth in the Epidermis, making their way to the inner layers of the skin, such as the Stratum Spinosum.

What to expect:
Depending on skin type, Level 2 peels can cause some initial sensitivity and irritation which resolves within a few days of treatment. Results become evident after 10 days; skin will appear healthier, smoother and brighter with a reduction in pigmentation and a clearer complexion.

Who is suitable:
These peels are particularly beneficial for treating mild to moderate skin concerns such as hyperpigmentation, photodamage or grade I-II acne. Level 2 peels are also a suitable treatment option for sensitive or reactive skin types.

Types of Level 2 Peels we offer at The Clinic:

PCA Skin Perfecting Mandelic Peel ($150)

Benefit Brightening Peel ($150)

Peptide Anti Ageing Treatment ($250)
LEVEL 3 PEELS
Level 3 peels are able to penetrate the various layers of the Epidermis reaching the Basal Layer (bottom layer) of the Epidermis and the Papillary Layer (upper layer) of the dermis.

What to expect:
Depending on treatment and skin type, Levels 3 peels can result in redness, peeling or flakiness for up to five days post treatment. Due to depth of penetration, results are more dramatic and become noticeable 2 weeks post treatment. Clients can expect a significant improvement in tone and texture, including reduction in pigmentation, fine lines and wrinkles and a reduction in papules and pustules in the treatment of acne.

Who is suitable:
Clients who require treatment of complex and moderate-severe skin issues such as ageing including fine lines and wrinkles, melasma, Grade III-IV acne, acne scarring including post-inflammatory hyperpigmentation and moderate-severe photodamage. Some Level 3 Peels can also be used as preventative treatments in oilier or resilient skin types.

Types of Level 3 Peels we offer here at The Clinic:

Timeless Retinol Peel ($250)

Detox Problem Skin Peel ($250)

Deep Sea Rejuvenation Peel ($660)

Check out a Level 3 Peel being performed in The Clinic below:


What is the difference between an In Clinic Chemical Peel and an At Home Peel Product?
Compared to take home peels, those performed in a cosmetic clinic are higher potency and clinically proven to produce results. At home peels are designed to mimic the in clinic chemical peels. The main difference is the level of active ingredients used.
The Peel 15ml
A gentle yet effective at-home chemical facial exfoliant, that mimics our number one in clinic treatment, the Blueberry Peel. The Peel exfoliates your skin to reveal the soft and smooth texture just beneath the surface. Just like the Blueberry Peel,...
AlphaRet Exfoliating Peel Pads 30 Pack
SkinBetter Science AlphaRet Exfoliating Peel Pads are a powerful skin treatment in an easy to use pad. Containing a triple-acid formulation of Lactic Acid, Glycolic Acid and Salicylic Acid, enhanced with the patented AlphaRet technology, these pads will exfoliate and...
AlphaRet Exfoliating Peel Pads 30 Pack
$165.00
Shop now
Sleep Glycolic 30ml
Sleep Glycolic is an at-home AHA (alpha hydroxy acid) peel which can deliver fast results while you sleep, with zero downtime.  
Clear Skin Boosting Pads 71g
The Societe Clear Skin Boosting Pads are a physician inspired pore treatment designed to increase clear skin results for problem skin conditions. The powerful formula contains AHAs, BHAs and Antioxidants in a useful jar of 60 pads, helping to improve...
Clear Skin Boosting Pads 71g
$120.00
Shop now
To find out more call The Clinic on (02) 9386 1533, email info@theclinic.net.au or visit our website to book online for selected treatments.