anti-ageing
Why A Chemical Face Peel might just be what you need
21.05.2021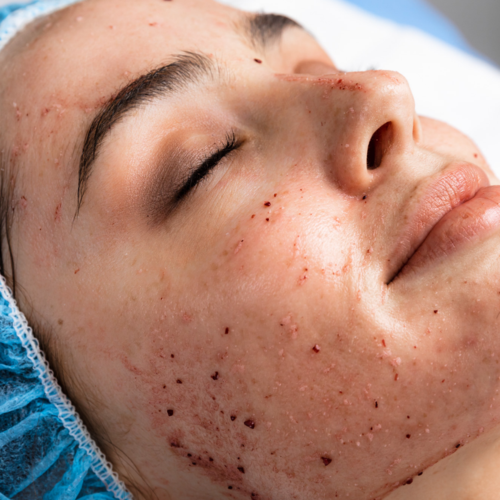 Here at The Clinic, Chemical Peels are our number one treatment for improving skin tone and texture. We perform over 60 peels per week and have been doing so for over 20 years. we also stock a selection of at-home peel solutions for those unable to make it into The Clinic for a treatment which too can provide excellent results.

WHAT IS A CHEMICAL PEEL AND HOW DO THEY WORK?

Chemical peels are designed to treat the Epidermis, or the outer layer of the skin. A peel treatment works by removing dead skin cells, debris and pigmentation, while also decongesting the skin and increasing cellular turnover to reveal brighter, healthier looking skin. Professional chemical peels use powerful medical grade ingredients, visibly transforming your skin to provide noticeable results you will not see from regular skincare products.




HOW DO IN CLINIC CHEMICAL PEELS WORK?

In Clinic our peels are classified into 3 levels which refers to the depth at which they penetrate the skin.

LEVEL 1 PEELS
Level 1 peels operate in the most superficial layer of the Epidermis, known as the Stratum Corneum. This layer of skin is commonly referred to the "dead skin cell layer" which forms the protective barrier of the skin. When thickened or compacted, due to various factors such as; ageing, moisturising with insufficient exfoliation or oily skin, it can cause the skin to appear dry, rough, dull or congested.

What to expect:
The results from Level 1 peels are instant with no downtime. Skin appears instantly brighter, softer, smoother and more hydrated.

Who is suitable:
Level 1 peels are suited to all skin types. Often used as an introductory to medical grade skin treatments, those with minimal skin issues who are feeling like their skin is dry, dull or congested or those who require a "freshen up" prior to a special event.

Types of Level 1 Peels we offer at The Clinic:

Blueberry Antioxidant Peel ($150)

Benefactor AHA BHA Resurfacing Peel ($150)

Societe Oxygenation Peel ($150)

Check out a Level 1 Peel being performed in The Clinic below:




LEVEL 2 PEELS
Level 2 peels work to a greater depth in the Epidermis, making their way to the inner layers of the skin, such as the Stratum Spinosum.

What to expect:
Depending on skin type, Level 2 peels can cause some initial sensitivity and irritation which resolves within a few days of treatment. Results become evident after 10 days; skin will appear healthier, smoother and brighter with a reduction in pigmentation and a clearer complexion.

Who is suitable:
These peels are particularly beneficial for treating mild to moderate skin concerns such as hyperpigmentation, photodamage or grade I-II acne. Level 2 peels are also a suitable treatment option for sensitive or reactive skin types.

Types of Level 2 Peels we offer at The Clinic:

PCA Skin Perfecting Mandelic Peel ($150)

Benefit Brightening Peel ($150)

Peptide Anti Ageing Treatment ($250)

LEVEL 3 PEELS
Level 3 peels are able to penetrate the various layers of the Epidermis reaching the Basal Layer (bottom layer) of the Epidermis and the Papillary Layer (upper layer) of the dermis.

What to expect:
Depending on treatment and skin type, Levels 3 peels can result in redness, peeling or flakiness for up to five days post treatment. Due to depth of penetration, results are more dramatic and become noticeable 2 weeks post treatment. Clients can expect a significant improvement in tone and texture, including reduction in pigmentation, fine lines and wrinkles and a reduction in papules and pustules in the treatment of acne.

Who is suitable:
Clients who require treatment of complex and moderate-severe skin issues such as ageing including fine lines and wrinkles, melasma, Grade III-IV acne, acne scarring including post-inflammatory hyperpigmentation and moderate-severe photodamage. Some Level 3 Peels can also be used as preventative treatments in oilier or resilient skin types.

Types of Level 3 Peels we offer here at The Clinic:

Timeless Retinol Peel ($250)

Detox Problem Skin Peel ($250)

Deep Sea Rejuvenation Peel ($660)

Check out a Level 3 Peel being performed in The Clinic below:




What's the difference between an In Clinic Chemical Peel and an At Home Chemical Peel ?

Compared to take home peels, those performed in a cosmetic clinic are higher potency and clinically proven to produce results. At home peels are designed to mimic the in clinic chemical peels. The main difference is the level of active ingredients used.

What can you do at home?

Here at The Clinic Online we stock a number of products that can come close to replicating our in Clinic chemical peels as well as products that can extend and enhance the results of our in Clinic chemical peels.

At Home Peels

Can't make it into The Clinic? We've got your covered with these at home chemical peel options.

They aren't quite as strong as an in Clinic peel- although in terms of results these products will give you the closest result to an in Clinic chemical peel.

The Peel- Scott + Sullivan

The newly launched Scott + Sullivan at Home Peel is a medical grade peel- as it contains an AHA gel based formula, what sets it aside from other at home peels is the level of AHA's it contains. Most at home Peels will contain little to no AHA's whereas the Scott + Sullivan at home Peel contains 10% AHA's which is what resurfaces the skin.

SHOP NOW

SkinBetter Science Exfoilating Peel Pads

Our go-to treatment to rejuvenate and enhance the skin, the SkinBetter Science Alpharet Exfoliating Peel Pads offer a powerful skin treatment in simple, single use pads. The triple acid formulation of Lactic Acid, Glycolic Acid and Salicylic Acid is further enhanced through patented AlphaRet technology and promises smoother, softer, more even looking skin. This powerful cosmeceutical product reduces the appearance of fine lines and wrinkles, while minimising the build-up of dead skin to prevent breakouts.

FIND OUT MORE

At Home Blueberry Peel

Adored by celebrities and influencers, the Blueberry Antioxidant Peel is The Clinic's most popular in-house peel. When NSW lockdown happened earlier this year, and we had to temporarily close our Clinic doors, we wanted to find an alternative to the Blueberry Peel that our clientele could easily apply from home. From these strange circumstances, the At Home Blueberry Peel was born!

Utilising products from the Cosmedix range (just like the original in-clinic version), we created a mock peel with two best-selling masks which exfoliate and decongest the skin to achieve that much-loved Blueberry Peel glow. Both the in-house Blueberry Peel and the at-home edition are ideal to apply before a big event, or as a quick pick-me-up for your skin.

SHOP NOW

Medik8 Sleep Glycolic Peel

Sleep Glycolic is an at-home AHA (alpha hydroxy acid) peel which can deliver fast results while you sleep, with zero downtime.

This bi-weekly treatment can transform dull, uneven textured skins who want visibly brighter, smoother skin - fast.

Harnessing a true free glycolic acid value of 10% for enhanced penetration results, Sleep Glycolic effortlessly leaves the complexion visibly brighter, smoother, and decongested.

SHOP NOW

Societe Clear Skin Boosting Pads

Looking for a treatment that is going to soothe reactive, problematic skin and help improve skin texture? The Société Clear Skin Boosting Pads contain a powerful formula of AHAs, BHAs and Antioxidants to improve problem skin, decrease acne and breakouts and minimise oily shine. These active ingredients provide a deep pore exfoliation that helps to exfoliate the unhealthy build-up of dead skin and improve the comfort of sensitive and reactive skin. Containing 60 pads for 60 days of treatments, this at home peel treatment also helps to improve the skin's barrier defence through the enhanced use of probiotics.

SHOP NOW

Societe Age Defying Boosting Pads

Imagine an anti-ageing treatment in a single treatment pad. Sounds too good to be true, right? Surprisingly, it's not. The Société Age Defying Boosting Pads have been designed to target signs of skin ageing in nine different ways, helping to support the skin's natural rejuvenation process while smoothing and toning. Powerful active ingredients such as Matrixyl 3000 (a unique Peptide formula), Retinol, Vitamin C, Hyaluronic Acid and Antioxidants work to reduce deeper lines and wrinkles, while leaving the skin with a revitalised glow. This convenient at home treatment includes 60 single use pads, providing you with 60 days of treatments.

SHOP NOW

Products that can extend the life and enhance the results of your In Clinic Peel:

If you've just had an in Clinic Chemical Peel your skin will be looking and feeling amazing, you'll want these results to last right? We've put together some of our top product picks that can help extend the life and enhance the results of your in Clinic Peel:

Watch our Registered Nurse Chantal talk through some of her top product tips fro extending the life & enhancing the results of your in Clinic Peel:


Superfruit Enzyme Exfoliator 59ml
Societe Superfruit Enzyme Exfoliator uses a high blend potency of superfruits to shift impurities and detoxify the skin. By exfoliating away dead skin cells, flaky skin, unwanted pigmentation and redness, Societe Superfruit Enzyme Exfoliator reveals a fresh and clear complexion....
Superfruit Enzyme Exfoliator 59ml
$82.00
Shop now
Detox Activated Charcoal Mask 74g
A solution to clogged pores and impurities, Cosmedix Detox Activated Charcoal Mask is a vital component to your weekly skin care regime. This detoxifying mask contains active ingredients, including Clay and Charcoal, that work to draw out congestion and remove daily...
Detox Activated Charcoal Mask 74g
$90.00
Shop now
Refresh Detoxifying Scrub Mask 60ml
SkinBetter Science Refresh Detoxifying Scrub Mask 60mL is a dual-functioning, clay-based scrub mask uses biodegradable spherical beads and naturally derived ingredients to resurface and promote smoother, more even-toned skin.
Refresh Detoxifying Scrub Mask 60ml
$75.00
Shop now
Exfoliating Clay Mask 118ml
Aspect Exfoliating Clay Mask is a gentle clay-based exfoliating mask to decongest and improve the skin's texture. Effective at removing dead skin build up and impurities, Aspect Exfoliating Clay Mask will leave the skin feeling smooth and refreshed. 
Exfoliating Clay Mask 118ml
$62.00
Shop now
Envirostat On The Go SPF 50 75ml
Aspect Sun Envirostat On The Go SPF 50 is a daily sunscreen essential in any skincare regime. Providing broad spectrum UVA and UVB SPF 50+ protection, this chemical sunscreen is suitable for facial and body use offering four hours water-resistant...
Envirostat On The Go SPF 50 75ml
$30.00
Shop now