exfoliation
Exfoliate Your Way To Radiant Skin
06.08.2021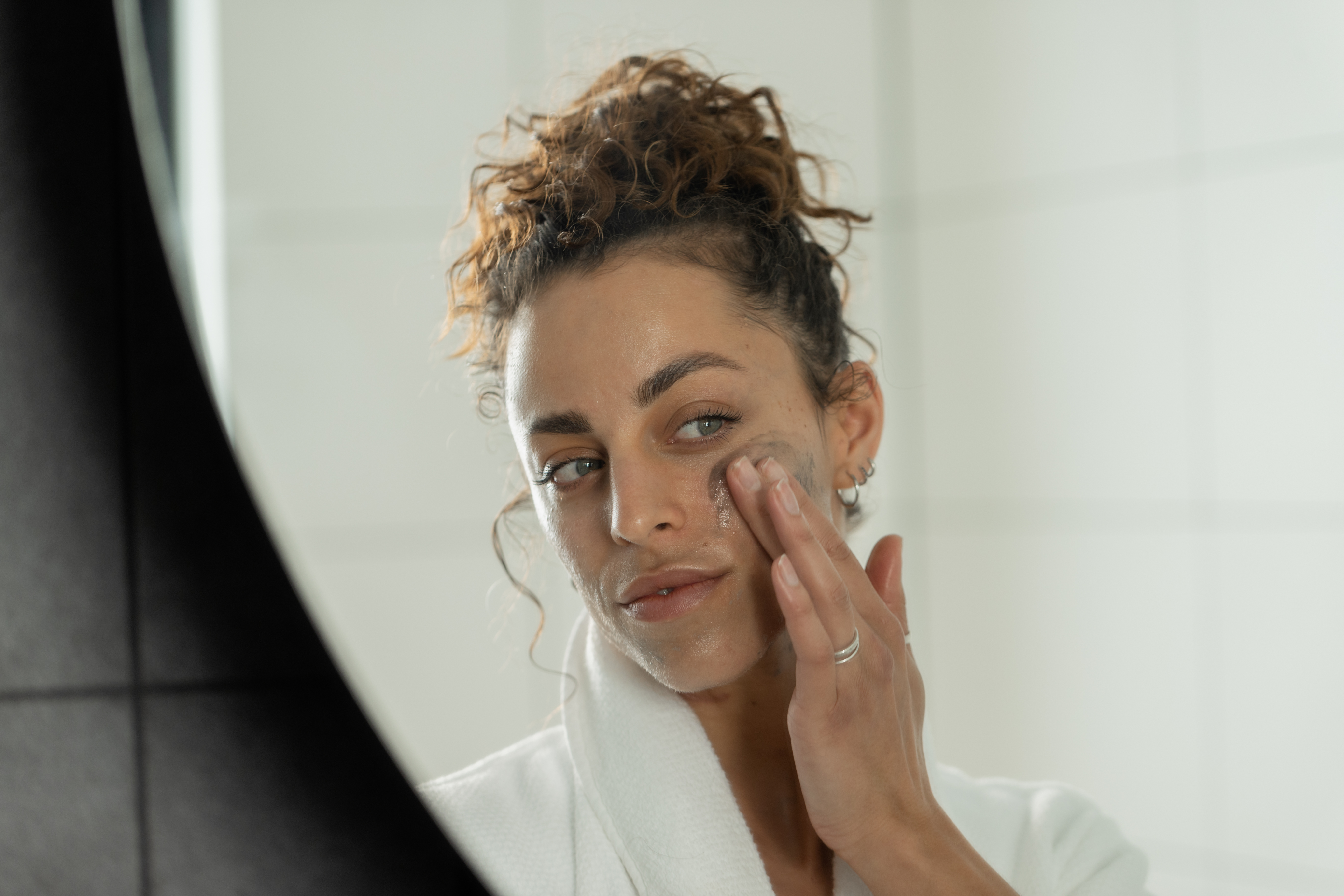 Exfoliation should be an essential part of every skincare routine. So why is the humble face scrub so often overlooked? Discover our best exfoliation tips and how to choose exactly the right exfoliant for your skin type.
WHAT IS EXFOLIATION?
Exfoliation is the process of removing dead skin cells from the surface of the skin using a granular substance, chemical treatment or an exfoliation tool. Every 30 days or so, your skin naturally sheds old skin cells to make room for new cells. Unfortunately, the dead skin cells don't always shed completely, resulting in dry patches and clogged pores. This is where exfoliation comes in, revitalising the surface of the skin leaving it soft and smooth, creating the ideal base for makeup application.
Watch Registerd Nurse Paige talk through exfoliants inlcluding how to properly use an exfoliant: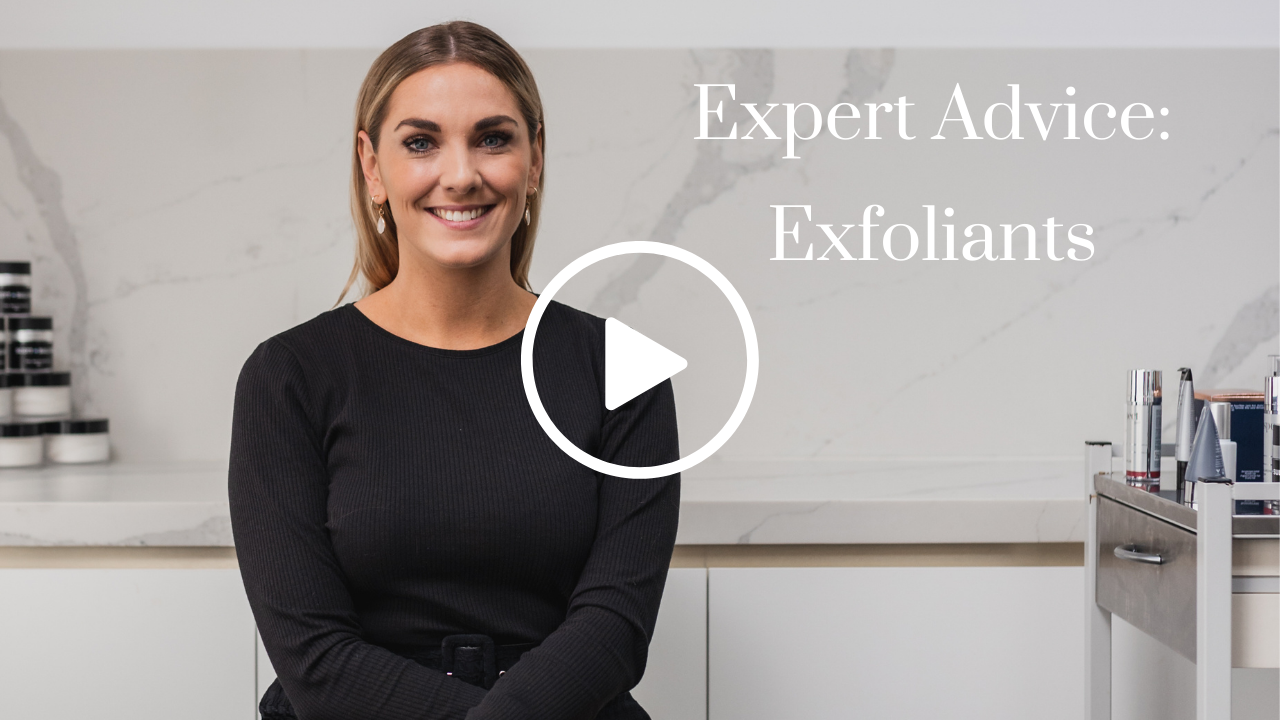 WHY SHOULD YOU BE USING AN EXFOLIANT ON YOUR SKIN?
Exfoliation should definitely form a regular part of your skincare routine. Exfoliation boasts a range of amazing skincare benefits including:
-Removal of dead skin cells
-Removes excess oil
-Minimises the appearance of pores
-Reduces dullness
-Softens & smoothes skin
-Improves overall skin texture & appearance
-Allows other skincare products to penetrate more deeply into the skin
WHAT ARE THE THREE TYPES OF EXFOLIANTS?
Physical Exfoliants:
The perfect entry level exfoliant, a physical exfoliant consists of a granular scrub that gently buffs away build up and impurities on the skin's surface to reveal brighter, softer, more youthful looking skin. Examples of physical exfoliants would be over the counter face and body scrubs, exfoliating cleansers and gentle in Clinic treatments.
Chemical or Enzymatic Exfoliants:
Chemical exfoliants offer a more intensive exfoliation treatment using acid or enzyme based formulas such as Alpha-Hydroxy Acid (AHA), Glycolic Acid or a Beta-Hydroxy Acid (BHA) like Salicylic Acid. Acid formulas work by reacting with the skin to remove dead skin build up and excess oils that can cause blemishes, while enzyme based treatments create an exfoliating effect as they dissolve protein (keratin) bonds between dead skin cells, absorbing the dead skin cells and improving cell rejuvenation to reveal brighter, smoother, softer skin.
Mechanical Exfoliants:
For those seeking more dramatic, faster results from their exfoliation treatment, a mechanical exfoliation could be the way to go, for example, our HydraFacial treatment. Mechanical exfoliation treatments use a machine or device to exfoliate the skin more deeply, generating noticeable results and revealing fresher, younger looking skin.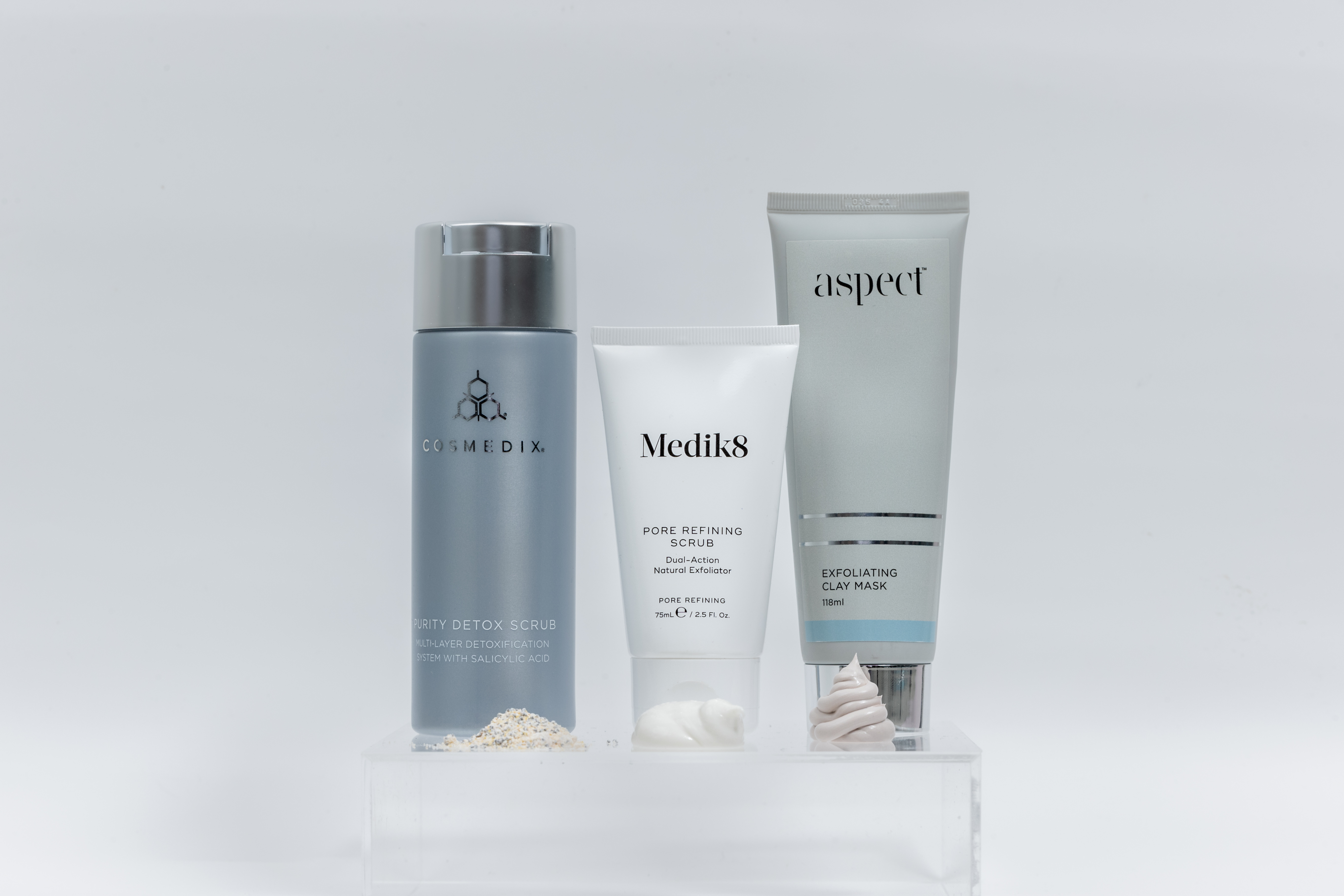 HOW OFTEN SHOULD I EXFOLIATE MY SKIN?
This really depends on the type of exfoliant you choose. If you are using a gentle physical exfoliant (think at-home scrubs and exfoliating cleansers), we generally recommend exfoliating your skin once or twice a week. A more intensive chemical exfoliation treatment might only be required every 4-6 weeks, while a deeper mechanical treatment might only be necessary every 6 months. Always consult your clinician for the right exfoliation treatment plan for you.
WHAT HAPPENS IF I EXFOLIATE TOO MUCH?
Can you have too much of a good thing? When it comes to exfoliation - yes you can! A common skin concern we notice at The Clinic is clients who are exfoliating too much. What does this look like? Excessive dryness, red or reactive skin, or even breakouts, so always be sure to exfoliate your skin in moderation with treatments suitable for your skin type.
WHAT IS THE RIGHT EXFOLIANT FOR MY SKIN TYPE?
To help you choose the right exfoliant for your skin type, we've compiled a few of our all-time favourites, including physical, chemical and enzymatic exfoliants (below). Popular amongst our Clinic team and clientele, these products are suited to a range of skin types, from sensitive to oily, and include several products suitable for pregnancy and breastfeeding. Discover your recommended exfoliator below. For more information or a custom skin plan, book a Video Consultation with our Registered Nurses. Video Consults are free and take just 30 minutes. BOOK HERE
The Peel 15ml
A gentle yet effective at-home facial exfoliant, that mimics our signature in clinic treatment, the Blueberry Peel. The Peel exfoliates your skin to reveal the soft and smooth texture beneath the surface. Just like the Blueberry Peel, your skin will glow...
Clear Skin Boosting Pads 71g
The Societe Clear Skin Boosting Pads are a physician inspired pore treatment designed to increase clear skin results for problem skin conditions. The powerful formula contains AHAs, BHAs and Antioxidants in a useful jar of 60 pads, helping to improve...
Clear Skin Boosting Pads 71g
$135.00
Shop now
Dry Skin Relief Bar 3.4oz
Soothe and improve dry skin concerns with this cleansing body bar formulated with salicylic acid and antioxidants. *Not recommended for pregnant or lactating women.
Dry Skin Relief Bar 3.4oz
$71.20
Shop now
Superfruit Enzyme Exfoliator 59ml
Societe Superfruit Enzyme Exfoliator uses a high blend potency of superfruits to shift impurities and detoxify the skin. By exfoliating away dead skin cells, flaky skin, unwanted pigmentation and redness, Societe Superfruit Enzyme Exfoliator reveals a fresh and clear complexion....
Superfruit Enzyme Exfoliator 59ml
$99.00
Shop now
Purity Detox Scrub 90g
A multi-layer detoxification system, Cosmedix Purity Detox Scrub is a cocktail of gentle, natural, manual exfoliators that work deep within the skin. Removing excess impurities, cellular debris and residue, Cosmedix Purity Detox Scrub reveals smoother, brighter-looking skin while reducing the appearance of...