body
So you think SPF is only for Summer… Think again!
07.03.2021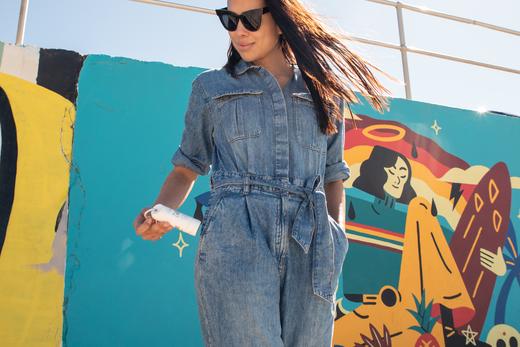 Just because the warmer months are coming to an end, doesn't mean your SPF routine should be to. Here at The Clinic our founders Lisa and Kaye (the SPF Gurus) have put together their top 4 tips when it comes to protecting yourself against harmful UV Rays in the cooler months ahead.

TIP #1 FIGURE OUT WHAT SORT OF SUNSCREEN YOU NEED

One sunscreen does not work for all occasions - spending a day in the office vs a day at the beach will look very different in terms of which sunscreen you should be applying. We've broken down our two types of sunscreen into 'everyday' and 'outdoor'.




EVERYDAY SUNSCREEN

The best way to prevent ageing is to protect your face with a good quality SPF Every. Single. Day. It's commonly assumed that being indoors means your protected from sun exposure … but that's not always the case. Just because you are not in direct sunlight does not mean that UVA and UVB rays are not damaging your skin. UVA rays in particular have a longer wavelength and can therefore still be damaging for the skin even through glass. It's also important to note that just because your makeup may have SPF in it, doesn't mean you don't have to apply sunscreen, to ensure maximum sun protection, it is recommended to use a minimum SPF30 primary sunscreen before application of moisturiser and make up

OUTDOOR SUNSCREEN

Heading outside for a picnic? Or to play sport? Spend some time on the beach? You need a more serious SPF for longer periods of sun exposure.
Our top picks for everyday sunscreens:
Covershield SPF 15
Societe Covershield is an ultra-creamy SPF moisturiser that provides a physical SPF 15 sunscreen to help protect and smooth the skin's appearance. Excellent for sensitive, red, reactive, breakout prone and impaired skin types, in addition to post-laser, peel and surgical...
Our top picks for outdoor sunscreens:
Envirostat On The Go SPF 50 75ml
Aspect Sun Envirostat On The Go SPF 50 is a daily sunscreen essential in any skincare regime. Providing broad spectrum UVA and UVB SPF 50+ protection, this chemical sunscreen is suitable for facial and body use offering four hours water-resistant...
Envirostat On The Go SPF 50 75ml
$24.00
Shop now
Hydrating Face SPF 50 75ml
Aspect Sun Hydrating Face is a hydrating sunscreen providing broad spectrum UVA and UVB SPF 50+. Australian owned and made, Aspect Sun Hydrating Face SPF50 is specially formulated to withstand our harsh climate, providing a blend of Antioxidants and UV...
Hydrating Face SPF 50 75ml
$59.00
Shop now
TIP #2 KNOW HOW MUCH SUNSCREEN YOU SHOULD BE USING
It's easy to under apply your SPF, so here's a reminder of just how much you need apply to achieve satisfactory sun protection against the suns UVB and UVA radiation:
We should be using approximately two milligrams of sunscreen per square centimetre of skin- this is equivalent to 1 shot glass for your entire body.
As Australia is located in the Southern Hemisphere we have less of an Ozone layer to block out UVA and UVB rays, this means we Aussies need to take more precautions when it comes to SPF. This level of exposure not only causes skin cancers but also premature skin ageing including the appearance of fine lines, wrinkles and pigmentation.
TIP #3 KEEP YOUR SUNSCREEN HANDY
It's important to make sure you are able to reapply SPF during the day when you are out and about. Carrying a large tube of sunscreen around isn't exactly practical, so our cult brand Aspect Sun has made a handy travel size sunscreen that even comes with a key chain so you can attach it your bag for convenient reapplication wherever you are.


TIP #4 REAPPLY, REAPPLY, REAPPLY!

Trust us when we say, this is the most important tip we can give you. The average time an SPF stays active on your skin is 2 hours so it's important to be diligent with your reapplication. Remember things like prolonged exposure to water, perspiration or sweat and towel drying will also reduce the potency of the SPF.

That's it for our top tips when it comes to SPF, stay safe and remember REAPPLY!