WELLNESS
WELLNESS: Rejuvenate Your Skin From Within
21.06.2021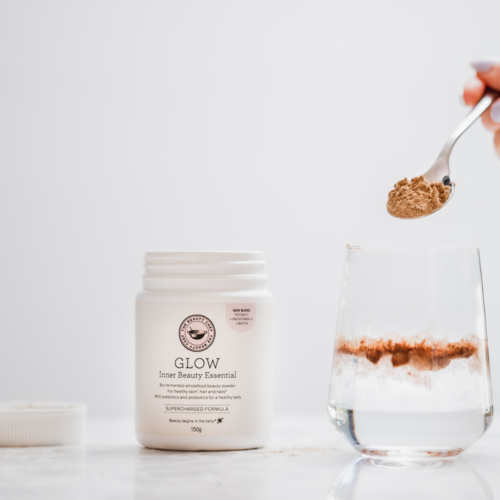 Rejuvenate your skin from within. Nourish your body with these health and wellness products to achieve healthy hair and nails and a complexion that looks and feels radiant.

HEALTH + WELLNESS PRODUCTS THAT RENEW YOUR SKIN FROM WITHIN

Healthy skin starts from within. The key to glowing, hydrated skin is through inner health and wellness. Ingestible supplements like these collagen powders, prebiotics, and probiotics heal and renew your skin from within.



Our team of medical nurses, doctors, and cosmetic specialists at The Clinic have curated a range of supplements to support your daily skincare regime and complement your topical treatments, such as creams, .

NOURISH YOUR SKIN WITH ESSENTIAL PROTEINS THROUGH A COLLAGEN POWDER

One of the most abundant proteins in our body, collagen is essential to achieve plump and glowing skin. A pure collagen supplement boosts these levels of collagen in your body naturally.

Feed your skin our selection of the cleanest collagen powders to achieve a glowing complexion and healthy hair and nails.

The collagen supplements we curate feature only the purest collagen from sustainable marine sources. The powder is hydrolysed to aid digestion and enhanced with extra skin boosters like zinc and hyaluronic acid to further rejuvenate your skin.

IMPROVE GUT HEALTH WITH PREBIOTICS AND PROBIOTICS

The diversity of bacteria in our gut, our microbiome, influences the health of our skin and digestion. These prebiotic and probiotic supplements encourage a balanced microbiome that may help reduce skin concerns such as eczema and acne.

Prebiotic supplements contain specialised plant fibres to stimulate the growth of healthy gut bacteria while probiotics add a healthier diversity of living microbes to your microbiome.

We have carefully selected a range of high quality prebiotic and probiotic supplements to help transform your skin so you can step out with confidence.
OUR NEW WELLNESS BRANDS
Vida GlowAspect Dr Complete Pigment Plus
Vida Glow, the number one marine collagen brand globally, is a pioneer in the ingestible beauty category, creating innovative solutions for everyday beauty concerns. Backed by science and proven by clinical trials, all Vida Glow formulations are highly active and bioavailable, this means your body can actually absorb the ingredients and put them to work to deliver real, visible results.
Carla Oates launched her first inner beauty powder in 2009 after healing her own skin issues and discovering that beautiful, glowing skin begins with a healthy gut. The Beauty Chef offers a complete range of bio-fermented and probiotic inner beauty powders and elixirs to promote gut health and glowing skin. Carla's philosophy–that beauty begins in the belly–reflects the power of the gut-skin connection and inspires her to create the most innovative and efficacious inner beauty products. Derived from nature and supported by science, The Beauty Chef's products work synergistically together as a complete inner beauty routine. Carla works on her unique formulas with a team of leading microbiologists, naturopaths and nutritionists, employing cutting-edge research to develop products that nourish the gut microbiome and promote radiant, glowing skin–beauty from the inside, out.
Beauty Food

Libby Babet & Veronika Larisova created Beauty Food to make things that little bit easier when it comes to nutrition. When you're busy and stressed, you don't have to settle for health destroying snacks to get you through. Now, you can have something yummy and healthy that supports you from the inside out.
Shop our wellness products to receive fast delivery and special gifts with every purchase.
Want expert advice to find the correct treatment for your skin? Book a Video Consult with one of our registered nurses.