acne
Oily & Acne Prone Skin
25.04.2021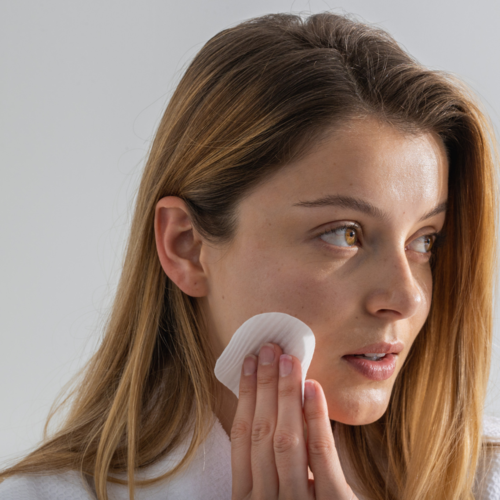 Firstly, it is important to note that if you have had any sudden changes to your skin, you should start off by going to see your GP or dermatologist to rule out any sort of secondary underlying infection which may be causing the sudden changes.

Once you have been to see either you GP or dermatologist and any sort of underlying infection is ruled out, we then recommend you book in for an in-depth video skin consultation. Our Skin consultations are free and are performed by our Registered Nurses. During this in-depth assessment, we identify your individual concerns and establish a history of acne onset, exacerbating and alleviating factors along with current and previous medications that may provoke a hormonal imbalance.

The most common request we get is 'how do I manage breakouts?'.
After determining the potential causes, we work with you on a personalised skincare regime to best suit your skin type and needs.

The Clinic's Registered Nurse Paige provides an overview of Oily and Acne Prone Skin in the below video:




Clean, Correct & Manage your Oily & Acne Prone Skin with Products

To achieve the best result for oily and/or acne prone skin, the correct cleanser, serum and moisturiser need to be used:

Our Top Cleanser Picks Include:

COSMEDIX PURTIY CLEAN

This cleanser includes lactic acid which exfoliates away debris and pore clogging impurities; it also includes peppermint essential oil which cools, and calms inflamed skin.

SHOP NOW

Pro Tip: You can use this cleanser as a detoxifying mask, to help draw out impurities and leave skin feeling clear and refreshed:

COSMEDIX CLARIFY FOAMING CLEANSER

This cleanser includes salicylic acid which deeply exfoliates and eliminates skin toxins and impurities; it also includes aloe vera and cucumber extract which naturally soothes and conditions the skin

SHOP NOW

ASPECT AHA/BHA EXFOLIATING CLEANSER

This cleanser includes both lactic and salicylic acid which cleanses deep within the pores removing excess oil whilst also exfoliating and decongesting the skin. It also contains Canadian willowherb which is a soothing, calming, and purifying antioxidant.

SHOP NOW

SKINBETTER SCIENCE REFRESH OXYGEN INFUSION WASH

This cleanser delivers oxygen to help revive the skin. It also includes an AHA Blend (glycolic, lactic, citric) which assists in gentle exfoliation to the top layer of the skin.

SHOP NOW

Our Top Picks for Corrective Serums Include:

PCA SKIN INTENSIVE CLARITY TREATMENT:

This serum includes 0.5% pure retinol, which is great for someone who has excess oil the pure retinol helps control the oil and mattify the skin.

SHOP NOW

COSMEDIX CLARITY SERUM

This serum is designed for a more hormonal acne prone skin; this is a more encapsulated retinol therefore it's not going to be aggravating on the outside of the skin.

SHOP NOW

DERMAQUEST NIACINAMIDE YOUTH SERUM

This serum contains Vitamin B3, which helps control excess oil, builds up the skins' barrier and is also anti-inflammatory. It is the perfect serum for someone who doesn't want to be using a retinol or is pregnant or breastfeeding.

SHOP NOW

Our Top Picks for Moisturisers Include:

ASPECT DR ULTRA-LIGHT MOISTURISER

This moisturiser is non-comedogenic and provides long lasting hydrating throughout the day.

SHOP NOW

COSMEDIX SHINELESS MOISTURISER

This oil free moisturiser contains Lilac Stem Cells which are great for controlling excess oil. Clinical results have also shown that Lilac Stem Cells also improve the overall appearance of blemish prone skin by evening out skin tone, texture and reducing redness.

SHOP NOW

PCA SKIN CLEARSKIN

Containing 4% niacinamide which assists in building up the skin's barrier, controlling excess oil and is also an anti-inflammatory.

SHOP NOW

SOCIETE COVERSHIELD SPF

This is our triple threat product, providing sun protection, is an oil free moisturiser and is also full of antioxidants.

SHOP NOW

Our Top At Home Treatment Picks for Oily and Acne Prone Skin:

SOCIETE CLEAR SKIN BOOSTING PADS:

These pads contain AHA's, BHA's and antioxidants; they help to improve problem skin, decrease acne and breakouts, and minimize oily shine.

SHOP NOW

COSMEDIX CLEAR DEEP CLEANSING MASK:

This mask decongests, detoxifies and soothes the skin leaving you with a clearer complexion.

SHOP NOW

What Ingredients to look out for:

While we will always recommend specific products for individual clients, key ingredients to look for include:

Salicylic Acid - the gold standard of acne treatment. It's also called a beta-hydroxy acid and it works by exfoliating gently to unclog pores. We love Cosmedix Simply Brilliant Serum.

The addition of salicylic acid to your cleanser can help exfoliate the skin by reducing the dead skin cells that may have built up and contribute to blocked pores.

Sulphur - Draws oil out of skin and has a drying effect, making it another great spot treatment. You'll also find it as the active ingredient in some face masks, like our Cosmedix Clear Deep Clarifying Mask.

Glycolic Acid - An alpha-hydroxy acid and exfoliating ingredient that targets both acne and wrinkles at the same time. This powerful ingredient helps improve skin's texture and reduce fine lines and wrinkles while also clearing up breakouts. We recommend Société Blemish Clarifying Complex.

Retinol - A vitamin A derivative, which the skin absorbs and converts to retinoic acid. The most effective treatment but also the harshest on the skin and should only be used when prescribed or recommended by your skin specialist. For a gentle option, we recommend Cosmedix Define.

If you are still unsure which products will best work for you, organize yourself a free video consultation with one of our Registered Nurses.