summer
Separating the Myths and Facts when it comes to Sun Protection
23.10.2023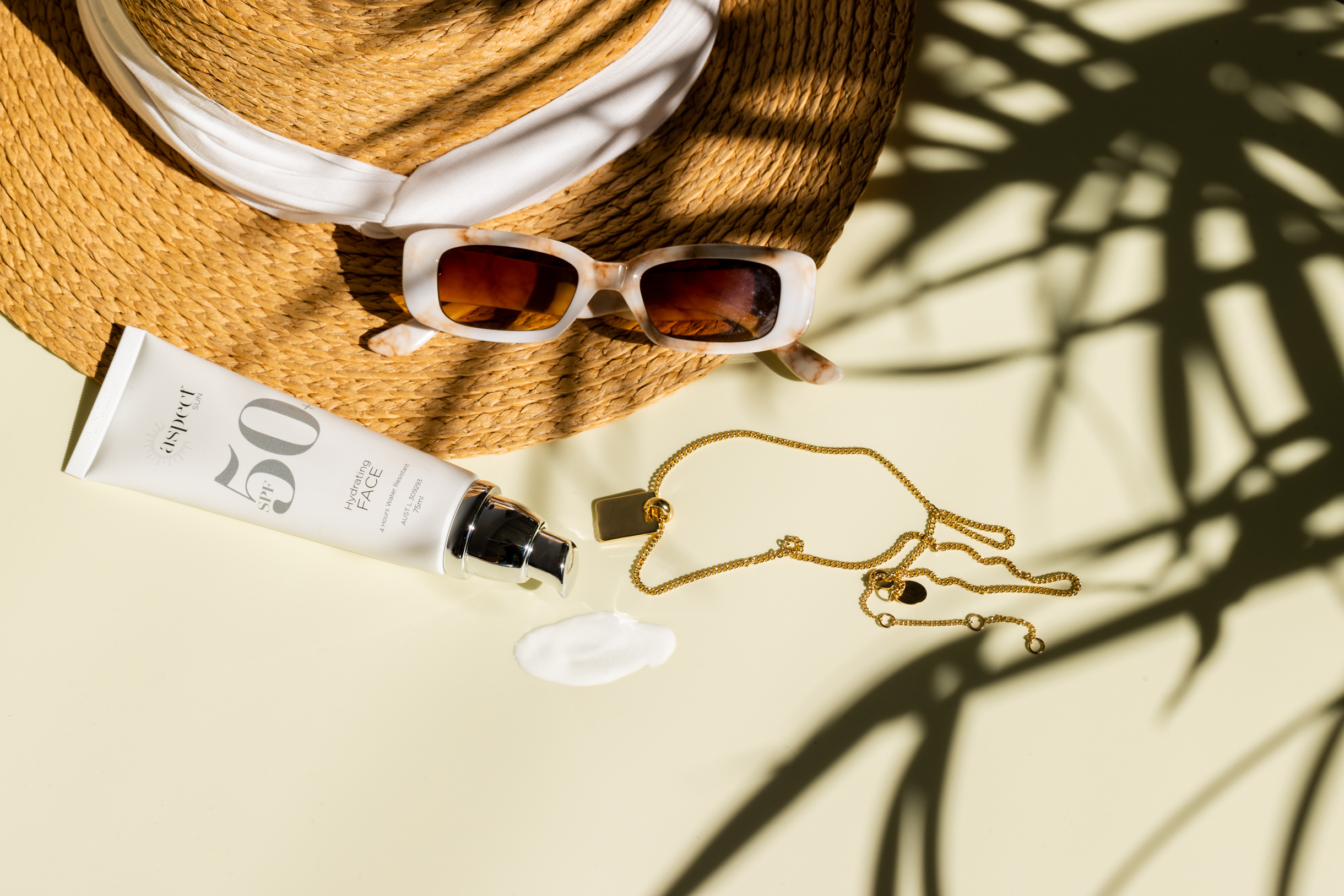 Australia's sun-soaked landscape and outdoor lifestyle make sun protection an essential part of daily skincare routines. Few subjects are as critical as sun protection. Shielding our skin from the sun's harmful UV rays is a fundamental step towards maintaining its health, radiance, and youthfulness. Yet, amidst the wealth of information available, several myths have taken root, clouding our understanding of this vital practice.
We aim to uncover the truths and dispelling the misconceptions surrounding sun protection. Join us as we delve into the nuances of UV radiation, the effectiveness of different sunscreens, and the impact of sun protection on your skin's long-term health
Myth 1: "I Have Dark Skin, So I Don't Need Sunscreen"


Fact: All Skin Tones Need Sun Protection
One common misconception is that individuals with darker skin tones are immune to the damaging effects of the sun. While it's true that melanin offers some natural protection, it doesn't provide complete defense against harmful UV rays. Darker-skinned individuals can still experience sunburn, premature aging, and an increased risk of skin cancer. The Australian sun is particularly intense, making it crucial for everyone, regardless of skin tone, to incorporate sun protection into their routine.
Myth 2 : "I'm Young, So I Don't Need to worry to much about SPF as much"
Fact: Sunscreen is Essential at Every Age
A common misconception among younger individuals is that they don't need to worry about sunscreen and anti-aging measures until they start noticing visible signs of aging. However, the truth is that the effects of sun exposure accumulate over time, and the best time to start protecting your skin is now – regardless of your age.
Sunscreen isn't just about addressing existing signs of ageing; it's also about preventing damage from occurring in the first place. UV rays from the sun can cause long-term harm to the skin, leading to the breakdown of collagen and elastin fibers, which are responsible for skin's elasticity and youthful appearance. These effects may not be immediately visible, but they gradually become apparent as you age..
Remember that prevention is always easier and more effective than trying to reverse damage later on. So, whether you're in your teens, twenties, thirties, or beyond, make sunscreen a non-negotiable part of your skincare regimen. Your future self will thank you for taking proactive steps to maintain youthful, radiant skin throughout the years.
Myth 3: "I Only Need Sunscreen on Sunny Days"
Fact: UV Rays Are Present Year-Round
It's a common belief that sun protection is only necessary on sunny days. However, even on cloudy or overcast days, UV rays can penetrate the clouds and reach your skin. Additionally, Australia experiences high levels of UV radiation throughout the year due to its geographical location. This means that UV exposure can lead to skin damage, even during the cooler months. A broad-spectrum sunscreen with at least SPF 30 should be applied daily to protect your face from both UVA and UVB rays.
Myth 4: "Makeup with SPF Is Enough Protection"
Fact: Dedicated Sunscreen Is Essential
While some makeup products offer sun protection, they often don't provide adequate coverage. The amount of makeup applied is typically insufficient to achieve the stated SPF level, and reapplication is challenging without affecting your makeup. To ensure effective sun protection, it's recommended to apply a dedicated sunscreen underneath your makeup. Look for lightweight, non-comedogenic formulas that can be easily incorporated into your skincare routine.
We LOVE Aspect Suns Tinted Physcial Sunscreen. The bonus tint delivers sheer coverage for a smooth flawless canvas, perfectly primed for makeup, or nothing at all. Your new favourite sunscreen, all year round!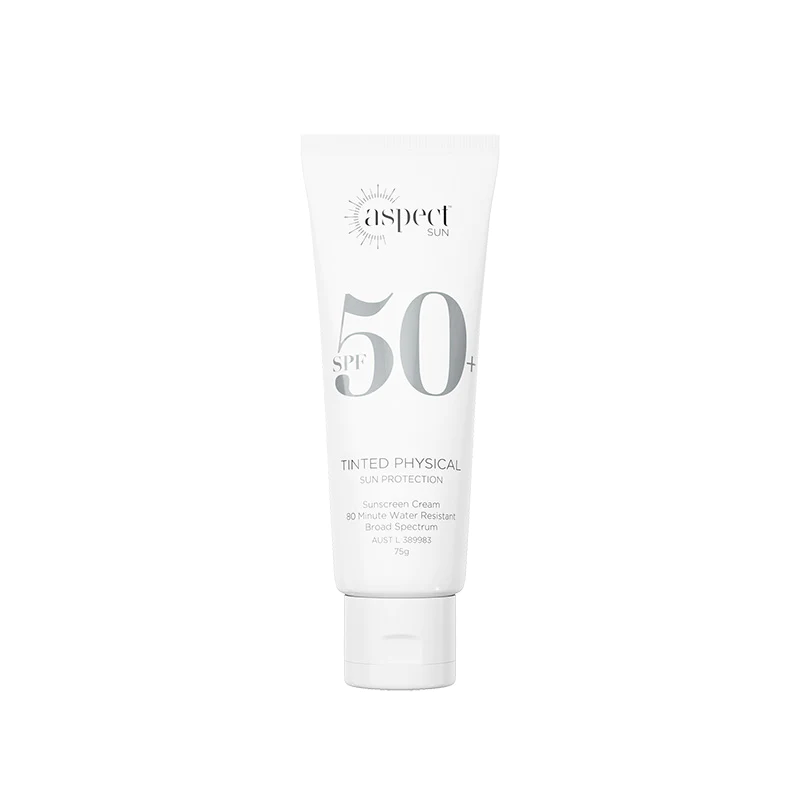 SHOP ASPECT SUN TINTED PHYSICAL SUN PROTECTION
Another favourite here at The Clinic is SkinBetter Science's Tone Smart SPF 50+ with high level of sun protection in a tone-adapting, silky smooth compact that provides a hint of blendable color.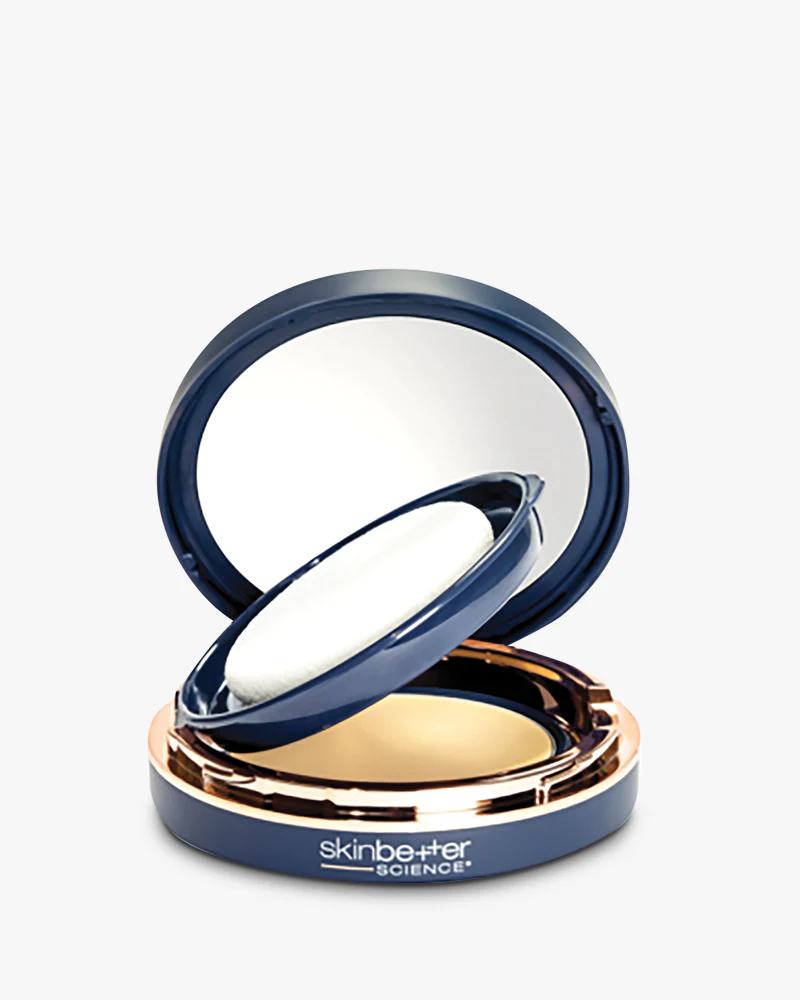 Myth 5: "Sunscreen Is Greasy and Causes Breakouts"
Fact: Non-Comedogenic Formulas Exist
Many people avoid sunscreen due to concerns about greasiness and potential breakouts. However, advancements in skincare technology have led to the development of non-comedogenic, lightweight, and matte-finish sunscreens. These formulas are designed to provide protection without clogging pores or causing skin irritation. We offer a variety of sunscreens tailored to different skin types, ensuring that you can find one that suits your needs.
For Oily Skin types, we recommend Aspect Sun Envirostat SPF 50+, a dry touch, water resistant sunscreen that combines broad spectrum sun protection with a soothing blend of antioxidants to help minimise the harsh ageing effects of UV exposure.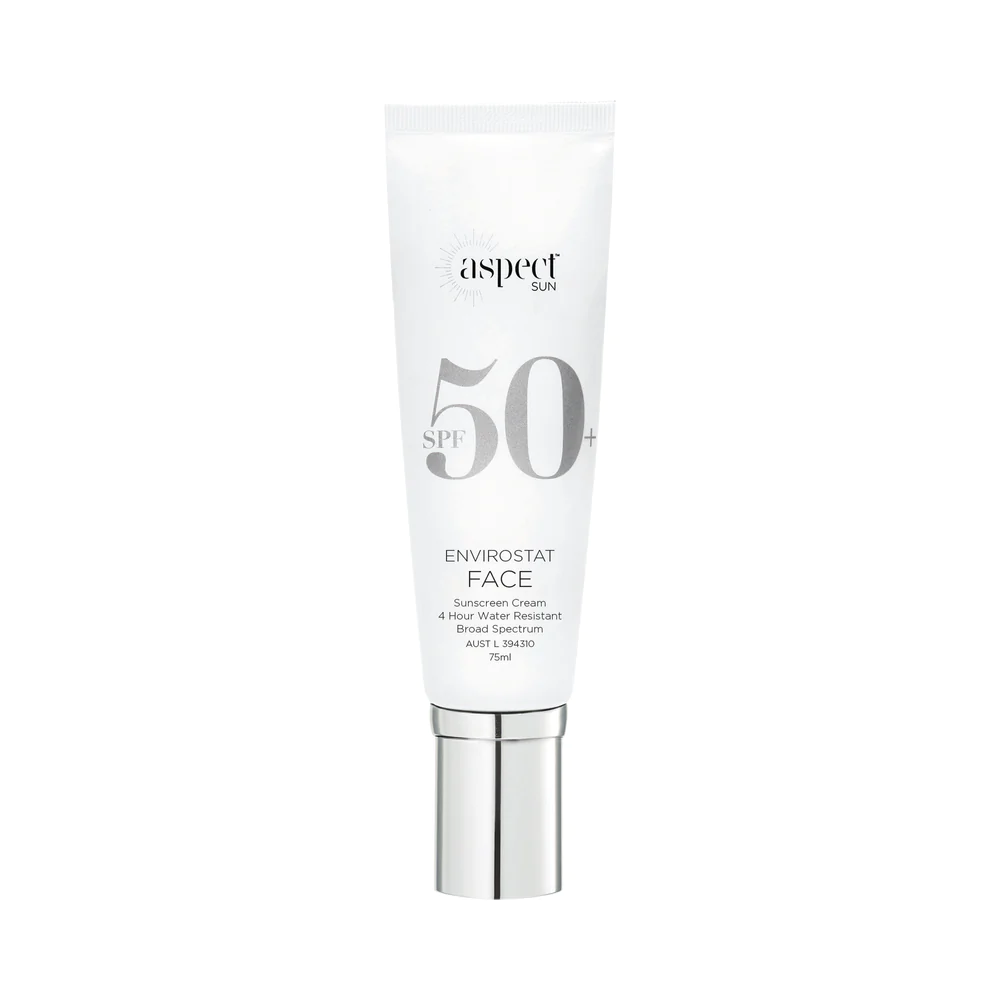 Myth 6: "I Can't Get Sun Damage Indoors"


Fact: Indoor UV Exposure Exists
UV rays can penetrate windows and cause skin damage even when you're indoors. This is particularly relevant in Australia, where homes and workplaces often have large windows to take advantage of natural light. Unprotected exposure to indoor UV radiation can contribute to premature aging and other skin issues. Applying sunscreen in the morning can offer protection against indoor UV rays, in addition to outdoor exposure.
Clearing up these myths is essential for promoting healthy skincare practices. Incorporating a high-quality sunscreen into your daily routine, regardless of skin tone or weather conditions, can help prevent sun damage, premature aging, and the risk of skin cancer. With the guidance of our team, you can confidently enjoy the outdoors while keeping your skin safe and radiant for years to come.
SHOP SUN PROTECTION
Envirostat On The Go SPF 50 75ml
Aspect Sun Envirostat On The Go SPF 50 is a daily sunscreen essential in any skincare regime. Providing broad spectrum UVA and UVB SPF 50+ protection, this chemical sunscreen is suitable for facial and body use offering four hours water-resistant...
Envirostat On The Go SPF 50 75ml
$24.00
Shop now
Tinted Physical SPF 50+
Offering broad spectrum UVA and UVB SPF 50+ sun protection and formulated with Zinc Oxide, Argan Oil and Gotu Kola extract to soothe, protect and assist with minimising the harsh ageing effects of UV exposure.  The bonus tint delivers sheer...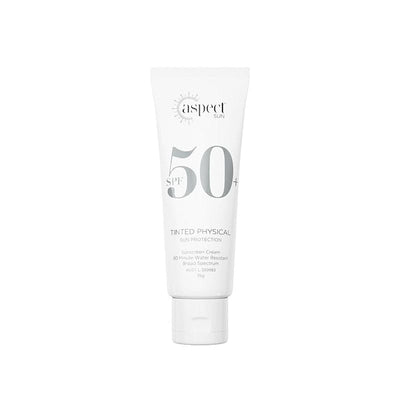 Physical Sun Protection SPF 50+
A very high protection, water resistant mineral sunscreen cream which has been specially developed to provide broad spectrum UVA and UVB SPF 50+ from the sun.    
Physical Sun Protection SPF 50+
$59.00
Shop now
Hydrating Face SPF 50 75ml
Aspect Sun Hydrating Face is a hydrating sunscreen providing broad spectrum UVA and UVB SPF 50+. Australian owned and made, Aspect Sun Hydrating Face SPF50 is specially formulated to withstand our harsh climate, providing a blend of Antioxidants and UV...
Hydrating Face SPF 50 75ml
$59.00
Shop now